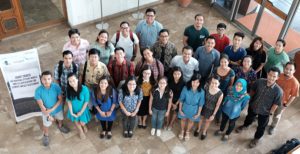 SEARCA conducted a Short Course on Cropping Systems Models and its Application for Climate Impact Assessment at the SEARCA Headquarters, Los Baños, Laguna, Philippines. The entry-level course, which ran from 4-8 September 2017, described a practical approach for simulating crop production using the empirical and dynamical approach.
Twenty-seven (27) individuals from the Philippines, Indonesia, Myanmar and Vietnam with diverse academic backgrounds (i.e., young lecturers, master and doctoral students) were selected to participate in the course. They were first introduced to the principles and approaches of crop modeling and its application for risk and impact assessments.
The empirical model was developed using a spreadsheet, while the hands-on assignments for dynamical approach used the DSSAT crop models. The discussions were emphasized on capabilities and limitations of each approach and some considerations for their use.
For more information click here.