UF researchers are discovering ways to efficiently use resources to provide for the world's increasing population by growing digital crops.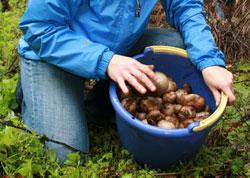 UF's Institute of Food and Agricultural Sciences researchers, with the help of various fundings, have discovered new advances in precision agriculture, an interdisciplinary approach to farming that uses technology to form digital simulations of crop growth, said Gerrit Hoogenboom, professor of agricultural and biological engineering and a researcher on the project.
Hoogenboom said he develops computer models and decision support systems, which allows researchers to digitally test the best ways to grow crops. So instead of doing tests in a field, they can be done on the system.
"I do not really conduct experiments and 'grow' crops," he said. "We actually grow the crops on a computer."
Hoogenboom said he develops virtual crop growth simulations for more than 30 crops including, soybeans, peanuts, corn, potatoes and pineapples. Through the digital crops, he is able to help real farmers grow produce and predict uncertainties like weather.
New sensors, mathematical models and data analytics also allow farmers to manage their crops more efficiently from an economic and environmental perspective, Hoogenboom said.
Dorota Haman, chair of IFAS' Department of Agriculture and Biological Engineering, said part of the research is also about the best ways to use irrigation and manage water when farming.
"With new technologies, sensors and high-quality data, water management is becoming more efficient and precise, resulting in better use of our resources," Haman said.
by Alexandra Melendi, Contributing Writer, Aligator.org [original post]