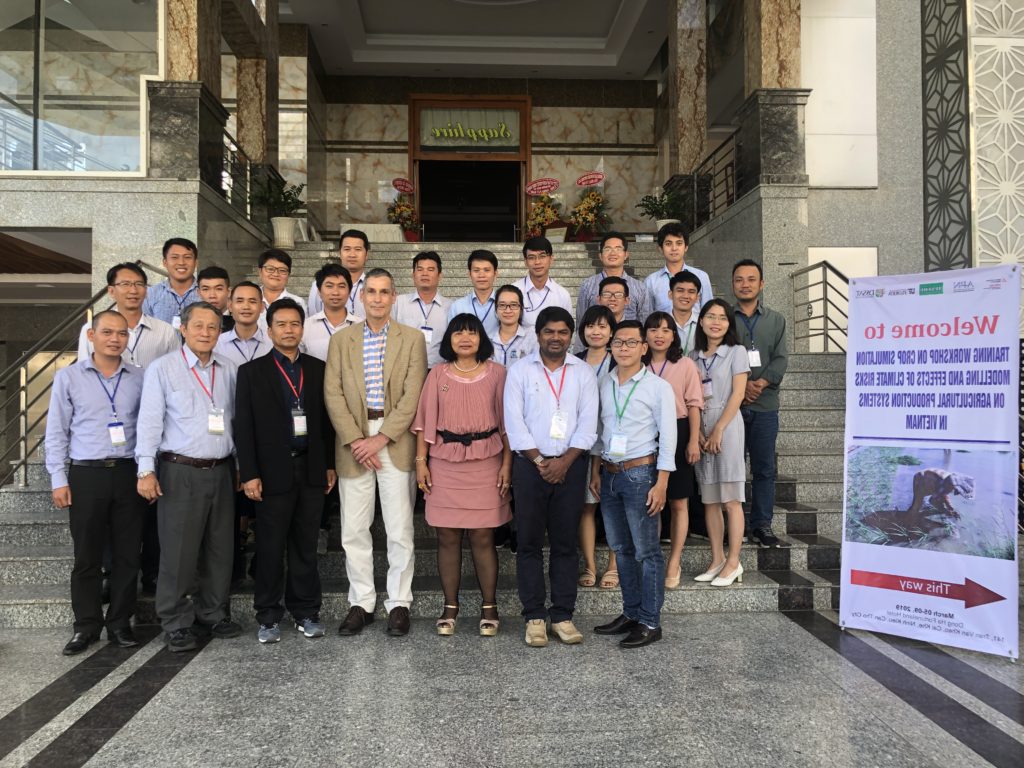 The significant rise in the frequency of extreme weather events in recent years has affected agricultural production systems and posture severe problems to farmers, agricultural scientists and extension officers, especially for making decisions at a field level. Hence, it is necessary to strengthen the capacity of regional extension personnel and scientists by providing significant strategies and technologies to support local farmers. A five-day DSSAT training workshop was held from March 5-9, 2019 at Hotel Fortuneland in Can Tho City, Vietnam. Participants included agricultural scientists, extension officers, and IT engineers working on agricultural issues and researchers from different provinces in Vietnam and they were trained on improving crop production using a system analysis approach with dynamic crop simulations models.
The DSSAT workshop at Can Tho consisted of training and half-day interaction session between farmers and scientists. The training modules comprised lectures on the introduction of the DSSAT software 4.7.5 version, minimum dataset with experimental data: genetic coefficients and crop management, soil and weather data; and computer exercises on potential production, water-limited production, and nutrient-limited production and so on. The workshop was hosted by the High Agricultural Technology Research Institute for the Mekong Delta (HATRI). Details about the DSSAT training workshop can be found at the following web portal http://hatri.org/en/-notification/training-workshop-on-crop-simulation-modelling-and-effects-of-climate-risks-on-agricultural-production-systems-in-vietnam/n1257.mt24h.
This DSSAT Training Program in Vietnam is a part of the two-year project entitled, `Capacity Development Training Workshop on Crop Simulation Modeling and Effects of Climate Risks on Agriculture Production Systems in Southeast Asia`, which is funded by the Asia-Pacific Network for Global Change Research (http://www.apn-gcr.org/resources/items/show/2102). The overall goal of this project is to provide training on the application of decision support systems and crop models to improve management of cropping systems in Southeast Asian countries including Vietnam, Thailand, Indonesia, Lao PDR and Cambodia. In addition, to develop a network among international organizations, national research system (NARS) scientists, policymakers and communities.