Hands-on Training workshop with titled  "Climate Change Impact Assessment and Adaptation Strategies for Wheat and Groundnut Production Using Decision Support System" was organized by Department of Agronomy, PMAS Arid Agriculture University, Rawalpindi, Pakistan on 4th to 5th September 2019.
The goal of the training workshop is to develop capacity building of scientists, researchers and post-graduate students in climate change impact assessment and adaptation strategies for wheat and groundnut production using DSSAT model.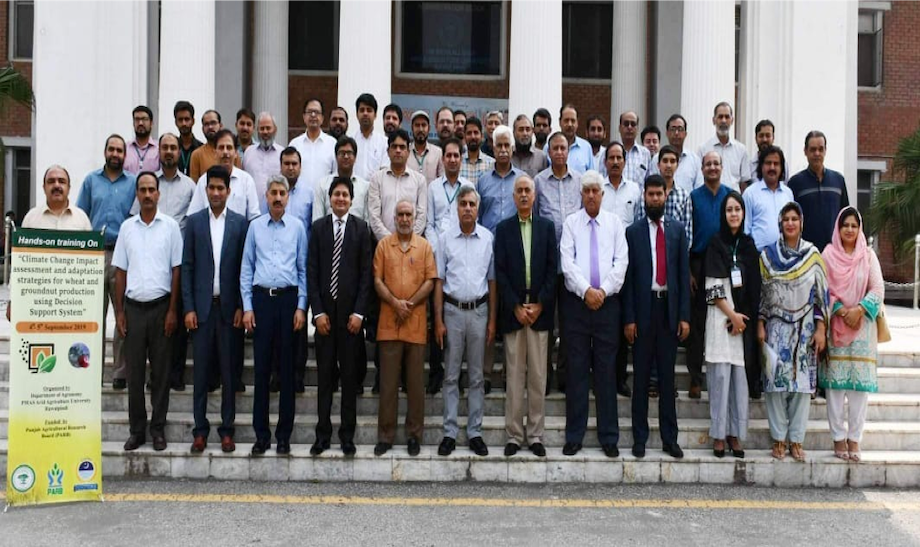 Resource Persons:
Prof. Dr. Syed Aftab Wajid, Department of agronomy, University of Agriculture, Faisalabad, Pakistan
Dr. Ishfaq Ahmad, Centre for Climate Research and Development, COMSATS University Islamabad, Pakistan
Participants
There were 50 participants from different institutes/provinces of Pakistan. The participants were Agronomists, Agricultural Researchers, Soil Scientists, Agro-meteorologists, Nutrient Management Specialists, Resource Management Specialists, Agricultural Extension Agents, Policy Makers and Economists. 
Activities:
History and Overview of DSSAT: Example applications
Installation of DSSAT Version 4.7 Software: Overview of DSSAT
Minimum Data Set Concept
Creation of FileX, A, T, Weather and soil by given data
Introduction to Sensitivity Analysis Tool & Exercises: Sensitivity Analysis Tool
Simulating Basic Growth Processes
Concept of Genetic Coefficients
Tools for Estimating Cultivar Coefficients & Exercise on Cultivar Coefficient Calibration
using the GLUE Tool
Exercises: Calibration and Evaluation of DSSAT Models using In-season Growth Analysis Data
Concept of General Circulation Models (GCMs), Representative Concentration Pathways (RCPs)
Seasonal Analysis : Protocol for Climate change impact assessment using the given data of GCMs and through environmental modifications
Exercises: Simulating Crop Rotations in Long-term Experiments
Exercise: Development of Adaptations for mitigating the negative impacts of Climate change using DSSAT
Media Coverage & Photos: